The Survive and Thrive Programme was set up in 2015 under the auspices of the then Chair of Membership Committee, Master Alastair Webster, to provide insights into areas outside the law which would enable Judges, practitioners and students to add value to their lives and practices.
Under the excellent leadership of Master Adrienne Page, and with full support from Colin Davidson and the rest of the Membership Team, now lead by Oliver Muncey, the programme has been a huge success, with three large events held in Hall each year on such diverse topics as wellbeing, public speaking and social media, to name a few. The events are usually livestreamed and recorded, with many of them accessible on the Inn's website to watch at your leisure.
2020 had a number of challenges for the world and providing large events in Hall was no longer an option. It was necessary to convert the programme (often planned up to 18 months in advance) to virtual delivery, and some of the planned events were postponed until the restrictions were fully lifted as it was felt that by their very nature they were better delivered in person.
A further change was that our Chair, Master Page, stepped down after five years of Chairing the Steering Group. The baton has now passed to me. The challenge will be to ensure that we continue to maintain the high standards of topics and speakers and so far, that challenge has been met.
Following the hiatus caused by the pandemic, in December 2020 through the efforts of one of our steering group members, Beatrice Collier, we were able to secure the services of Dr William Murray, an endurance athlete in the United States, who gave an inspirational talk about what endurance athletes and barristers can learn from each other. Judicious use of the 'chat' function meant that the remote audience were fully able to participate. He gave his services freely to the Inn and I look forward to the opportunity of hosting him and his wife in Hall when circumstances permit.
Master Alexander Macqueen spoke alongside Tom Salinsky from the Spontaneity Shop at an event curated by Master Juliette Levy on Monday 29 March 2021 on Lights! Camera! Advocacy which was entertaining and well received.
A further transatlantic event took place on Wednesday 26 May 2021, when Master Graeme Mew hosted a talk by the international Rugby Union referee Nigel Owens, who talked about the calm amongst the chaos of the game, mental health advocacy and LGBT+ rights. It was a powerful and engaging talk.
Finally, in July, our own Professor Matthew Weait hosted a talk by Professor Michael Smets on Uncertainty: Leveraging the power of Doubt which led to a lively discussion facilitated again via the chat function.
We are grateful to all the speakers and hosts for their contributions, without whom the programme would not survive, and the engagement of the audiences without whom it would not have thrived in the way that it has.
The next Survive and Thrive event will be held in Hall on Tuesday 2 November 2021, with Caroline Flanagan, inspirational speaker and author. We are very much looking forward to seeing you all in person.
A huge debt of thanks is owed to Master Page for her wonderful chairmanship, Colin for his energy (and arm twisting!) Oliver, Francis and Carly in the Membership Department for making it all happen and welcoming Cath to her new role working with us.
The Steering Group has been a hive of energy and ideas, and I want to thank them all; Master Levy, Karen Reid, Felicity McMahon, Beatrice Collier, Michael Harwood and Zach Judge-Raza.
---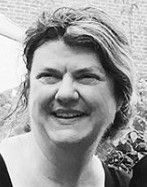 Master Louise McCullough was Called in 1991 practises in Crime and Family law, with a special interest in vulnerable witnesses. She is a Senior Advocacy trainer and one of the three Middle Temple Representatives at the Bar Council.