The Renaissance Foundation during their trip to the Old Bailey
Many have experienced great difficulty during the last year of the pandemic. But fortunately, there have been positive memories as well, one of which is the MTYBA mentoring scheme. Our Diversity and Inclusion Officer, Emma Hughes and MTYBA President, Michael Polak, have managed the Middle Temple Young Barristers' Association (MTYBA) mentoring programme with the Renaissance Foundation over the last two years. 
The Renaissance Foundation
The Renaissance Foundation (RF) supports and inspires young people aged 13 to 19 years old that face significant life challenges to fulfilling their potential. They predominantly work with young carers who look after sick parents or siblings at home, students that have been identified by their schools as at risk and young patients who are transitioning between child and adult hospital services.
The incredible RF staff are extremely dedicated and have such a talent to bring the young people out of their shells. MTYBA are so grateful to have worked with founder Sat Singh, Rachael Edwards-Coutts, Corey Samuel, Niusha Bonakdarian, Rose Deshmukh, Grace Gibson and Natalie Chevin. For more information, please visit https://www.renaissance-foundation.com/
What does a barrister do?
We held a session in 2020 discussing the route to become a barrister, the role of a barrister, and the varied practice areas. The panel consisted of Recorder Master Jo Delahunty, Master Elaine Banton, Monifa Walters-Thompson, Mass Ndow-Njie, Srishti Suresh and Leon Lynch. The event concluded with a hilarious performance by comedian Dane Baptiste. We also had several group sessions where we broke out into one-on-one room sessions to discuss mentees goals and objectives.
April fools fun Session
On the Thursday 1 April 2021 we had a fantastic online fun session in celebration of April Fool's Day. This was a casual fun event for everyone to reconnect with their mentees. We had a fancy-dress theme and encouraged everyone to wear a funny hat or prop. It was brilliant to see a huge range of fancy dress from pirate hats, sombreros, top hats and more. I was sporting a lovely set of bunny ears accompanied with face paint!
We divided into teams and played charades and ice breaker games. There were extra points awarded for the best team's name, funniest lockdown story, and best fancy dress. All the young people were awarded with easter eggs!
Miles and Partners Solicitors
Members of the Miles & Partners Solicitors spoke to Renaissance Foundation & Bridging the Bar mentees about the role of a solicitor in Housing, Mental Health and Public & Private Family Law. This event consisted of a panel of solicitors speaking to the young people about the role of a solicitor, the differentiation between a barrister and solicitor, and identifying the key traits they look for when instructing a barrister We extend a warm thanks to the speakers Julie Nix, Linda Pope, Lou Crisfield, Kaileigh Hazeldine, and Musonda Phiri.
Leslie Thomas QC
An event took place on Thursday 15tJuly 2021 with BTB Champion, Professor Leslie Thomas QC, the distinguished barrister and specialist in civil liberties and human rights. The RF young people were given a basic Introduction to Civil Liberties & Human Rights, made aware of their rights regarding stop and searches, and were educated about key cases involving breaches of Human rights and excessive force. This was a hugely impactful and informative session for mentees and mentors alike.
Bridging the Bar QS
On Thursday 27 May 2021 we held a panel style discussion addressing the barriers to diversity at the bar, the initiatives dedicated to enhancing opportunities and we heard from Bridging the Bar (BTB) Chairman Mass Ndow-Njie about what motivated him to found BTB.
The BTB Champions Master Jo Delahunty and Professor Leslie Thomas QC shared their journeys, the challenges they faced, and the importance of Diversity and Equality at the Bar.
We also heard from several BTB mentees, Afiya Amesu, Adenike Onasanya and Sephlin Sam about their experience of the BTB mentoring programme. Lastly, we had performances from talent artist Jordan and spoken word from award winning poet Rakaya Fetuga. Link: https://www.youtube.com/watch?v=oSCwcKh9V1E&t=11s
Tours of the Supreme Court & the Old Bailey
On Wednesday 1 September 2021 we had an in-person event which involved a legal tour of several courts. The RF young people were chaperoned by the kind and extremely hard-working Fundraising Executive, Niusha Bonakdarian. As well as the warm and wonderful Outreach and Medica Executive, Corey Samuels who took most of the superb photographs.
The MTYBA mentors and RF met in front of the iconic statue of Nelson Mandela in parliament square. We then commenced our day with a captivating tour of the Supreme Court. We felt very privileged to be the first group to re-launch in person tours since lockdown ended. Supreme Court Information Officers, Simon Josiffe and Cloe Ofori hosted us. Simon delivered a fascinating and engaging tour and was incredibly skilled in explaining the complex role of the court and the difficult cases and legal principles the justices grapple with.
Simon had an incredible ability to get the young people to engage and indicate their areas of interest and provided extensive knowledge of the history and interesting thought-provoking cases like Lee v Ashers Baking Company Ltd and others [2018] UKSC 49. We also had the opportunity to meet Judicial Assistant (JA) Isabella and learnt about the role of a JA and hear first-hand how interesting and intellectually stimulating it is to work closely with the justices.
We had a lovely lunch at the London Bubba Gump Shrimp restaurant which features a wealth of memorabilia from the award-winning film Forest Gump.
We ended the day by visiting the Central Criminal Court also known as the Old Bailey. Kindly Rebecca Collins, who is PA to His Honour Judge Lucraft QC, arranged for us to view a case and meet a Judge. The Common Serjeant, Judge Mark, spoke with the group and provided an excellent insight into the criminal justice system, the role of a judge and the nature of the work. I was especially touched and grateful for his tactful address of the knife crime epidemic in the UK and the way he warned the young people about its dangers.
Those who were of age observed His Honour Judge Lucraft QC, the Recorder of London sitting and presiding over a terrorism case. The attendees who were underage were permitted to premiere some newly produced educational videos about the Old Bailey. At the conclusion of the day the entire group was fortunate enough to receive a speech from a prosecutor about their role, cross-examination and how a case of this nature is run. Wonderfully several young people stated they were going to pursue a legal career and were highly motivated by the trip.
Mentee Shanice's Perspective on the Trip:
Hello, my name is Shanice, I'm 17 years old, currently in year 13 and I would like to study Law in University. I have been part of Renaissance Foundation since 2018, it's an amazing organisation that helps support young carers and young patients by organising trips, meeting new people and providing opportunities.
I had an amazing opportunity to visit The Supreme Court and Old Bailey on 1st of September 2021 with Renaissance Foundation and MTYBA. As you first step into the supreme court you undergo security. After you have completed that process, you can then explore The Supreme Court and get a much better look at the beautiful historical stained-glass windows which show various symbols and paintings. We were then introduced to our tour guide who showed us around the courts, the building and we got the opportunity to speak with a judicial assistant. They spoke about the responsibilities of their role such as, helping with research assigned by the judges, preparing documents, handling reports, briefs, and records. They shared great tips with us, such as to have tenacity as that will help when you experience failure as well as advice on getting into a career at The Supreme Court.
This was a phenomenal experience, as during the tour I learned new facts about The Supreme Court and the judicial branch. A great fact that I learned was that The Supreme Court was not just the highest court in the United Kingdom but also, in some commonwealth countries too. Which include Jamaica, New Zealand, Canada and many more. The Supreme Court was created in 2009 by the constitutional reform act 2005. Before this, the highest court in the land was the House of Lords.
After The Supreme Court, we visited the Old Bailey. During our visit I got to watch a real-life case, which was a great demonstration of justice operating in real life. We also spoke with a senior judge who talked about the law, knife crime and the laws and sentencing around that. I was amazed by everything around me and to see the case happening. Hearing about the holding cells and dead man's walk where the doorways got narrower and narrower. It was a great experience.
Visiting The Supreme Court, Old Bailey and speaking with professionals helped strengthen my desire/aspiration to become a barrister and be able to help people. It made me more fascinated. Overall, it made me love law even more and in the future, I'll be able to speak on someone's behalf, understand how procedures work and help people to get fair trials. It helped to show me how the criminal justice system applies law and it's an amazing opportunity to put on my personal statement.
I am very grateful for this visit and the advice share with me is deeply appreciated and thank you to everyone that spoke to me and made the visit possible.
Further comments:
Ananya (RF Graduate) (Mentor – Cameron Haden)
Thanks for organising the trip! I had a great time! Please pass on my thanks to Emma Michael and Niusha too 🙂
Estrella (RF Graduate) (Mentor – Carin Hunt)
Thank you so so much Corey for allowing me to be part of today's event. I really enjoyed it and I've learned so much. I cannot wait to tell my family once I get home. I truly felt like a VIP member being able to step into unseen areas by the public.
(RF Young Person who wants to be a Lawyer) (under 18 so anonymised)
Thank you I had an amazing day and learnt a lot
Mentee Testimonial: Estrella
I am 19 years old and now studying Bio-Medical Science at Middlesex University this year. My mentor is Carin Hunt.
How did you feel about working with MTYBA?
I think, it was helpful for me. Although I didn't have many sessions with my mentor, it was useful to help guide me with what I wanted to do. Carin really helped me with my personal statement, I could really see the difference between the first one and the second one.
What did you think of the mentors?
I enjoyed the atmosphere they mentors gave to the mentees. It made me feel quite intrigued about more careers. They also were very open to discussion and not just talking about work and mentoring, really open to talk in general, a nice conversation and it made us mentees feel welcome.
What did you think of the in person visit (Supreme Court & Old Bailey)
I felt very VIP and prestige to be given that opportunity. And it taught me a lot of stuff in one day that I don't really think about. It made me really intrigued, especially about Law.
How could the programme have been improved?
Have more sessions, but I understand because of pandemic.
Most helpful for me?
Personal statement and getting to talk with Carin, was very helpful and I needed advice with medical law, and she helped a lot. Another big highlight was the trip, I really enjoyed the trip I think it was fun!'
Mentor Testimonial: Cameron Haden
They say there are few joys greater in life then helping others and helping to mentor the next generation through the Renaissance Foundation is such a joy. On a recent occasion we were able to show the mentees around the Old Bailey, and the Supreme Court, they got to converse with judges, barristers, ushers, and guides, as well as see the courts from the perspective of the accused.
In doing so the mentees gained a snapshot of the legal industry and saw the place where with hard work and determination they could work in future.
For me it was good to also see the mentees in person, and to discuss with a great many of them their ambitions and what has happened since I last saw them.
It's quite amazing the resilience and determination they have. I feel proud to be doing my bit through the Renaissance Foundation to help them, and the next generation.
Of course, I much also give a big thank you to Emma, as without her I would not have had the chance to be part of the programme, nor be there on the day to make a difference. She's one of those unsung heroes.
The day it was incredible, I look forward to what we will be doing next.
Other Events
Mentors also attended a fundraising event on the Monday 14t June 2021 with President Obama's former National Security Advisor and Speechwriter, Ben Rhodes. The session was a great opportunity to speak to someone in the heart of the Obama administration.
RF Young people have attended numerous Middle Temple Events such as International Women's Day in March 2021, Innocent Until Proven Guilty in September 2020 featuring Innocent Project Lawyers and an exoneree. We look forward to them attending the Black History Month Event on Monday 18 October 2021 and more.
A special thanks is extended to our MTYBA mentors who make this all possible! Specifically, Michael Polak, Hayley Blundell, Cameron Haden, Carin Hunt, Eleanor Clotworthy, Elisabeth Komives, Dina Sherif, Julian Ranetunge, Tiffany-Rochelle Louis-Byfield, Ellen Crow, Aimee Stokes and Yohana Bereket!
It has been incredibly rewarding to work with these intelligent, gifted and unique young people. I encourage you to sign up! We will be recruiting new mentors to work with this year's new mentees very soon. Mentors will have to undergo mandatory training and DBS checks. If you are interested, please email [email protected].
---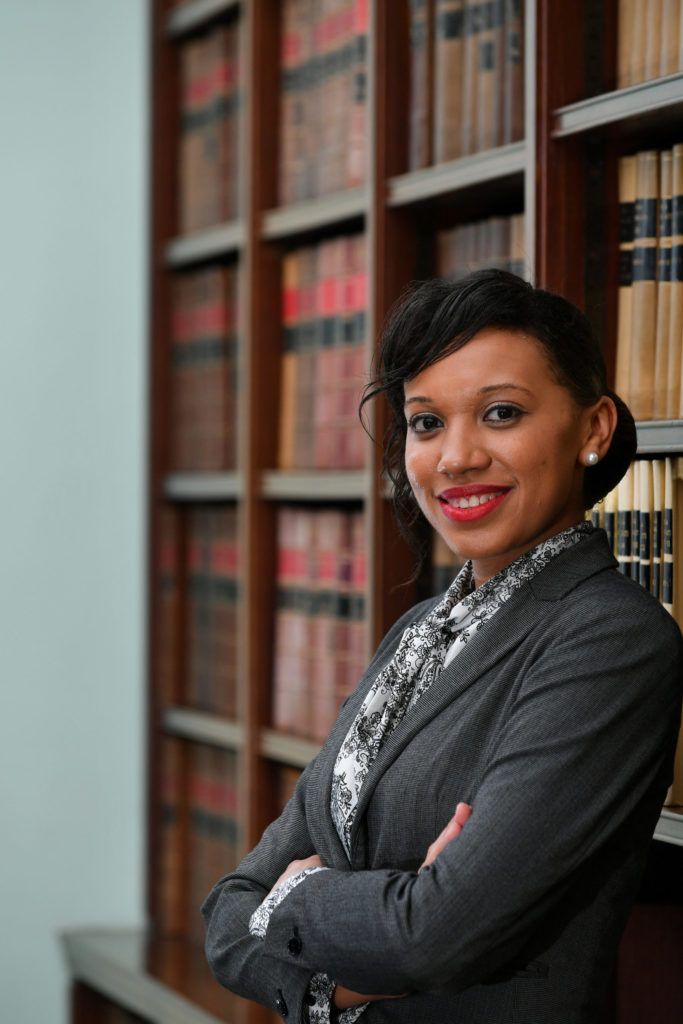 Emma Hughes is MTYBA's Diversity & Inclusion Officer for 2021. As a mature student of dual heritage and a single mother, the challenges facing diversity and equality within the legal profession are a stark reality for Emma. In her role as MTSA President in 2018, she organised and hosted the first Black History Month Qualifying session, which has now become an annual event. Emma has received an Access to the Bar Award and a Jules Thorn Scholarship from Middle Temple which made her career at the Bar a tangible possibility. Emma will be commencing a specialist family law pupillage at 4 Brick Court in 2022.