Due to Covid-19 restrictions, several Barristers have had to be Called in absentia. The Honourable Society of the Middle Temple has entrusted the responsibility of handing over Call Certificates to the Callees batch of February 2021 to the Association, who successfully completed this exercise. In respect of batch July 2021, the duty to remit Bar Certificates were again entrusted to the Association.
The association held a ceremony on Friday 3 September 2021 to remit them their Call certificates. We were honoured to have the President of the Republic of Mauritius, His Excellency, Mr Prithvirajsing ROOPUN G.C.S.K, as our guest of honour and His Worship, Lord Mayor, Mr Moussa Cadersaib, of the City Council of Port Louis graced the occasion by his presence.
Olivier BARBE (Secretary of the Middle Temple Ass), Mayuri Bunwaree (Secretary of the Bar Council) and Former Judge Mr. Vinod Boolell and S.Bhuckory SC, Vice President of Middle Temple Association (Mtius) also addressed the audience on 'The Ethical Standard at the Bar'.
We were particularly fortunate to have a video message from Master Treasurer, Andrew Hochhauser QC. His message was highly appreciated by all present especially the new barristers. Especially when he said, 'It is wonderful that you are all in such good hands with a vibrant and committed Association of Middle Templars to help, guide and support you in your professional development.'
Those students who have successfully completed the Bar Professional Training Course (BPTC) were obviously deprived of the unique opportunity of Call Ceremony is normally held with great decorum and dignity at Middle Temple.
The Association would wish to highlight the strong connection and cooperation for many years with Director, Colin Davidson (now retired) and Oliver Muncey (now Head of Membership) for fostering and promoting links in an active and dynamic manner.
We have been very active recently, holding virtual meetings of the Committees and initiating conferences aimed at proposing judicial reform in Mauritius:
Creation of specialised Constitutional Court
Creation of a Human right Centre
Other topics of great legal interest were discussed:
Judicial Bullying and Stress Management of the Young Bar
Memorial lecture on the theme of 'Sir Gaetan Duval QC and the Rule of Law'.
We are happy to engage in greater collaboration by networking via Facebook and/or online Zoom communication with UK Middle Temple and other overseas societies.
We look forward to bringing our relationship and collaboration to new heights in the pursuit of our common goals and objectives.
---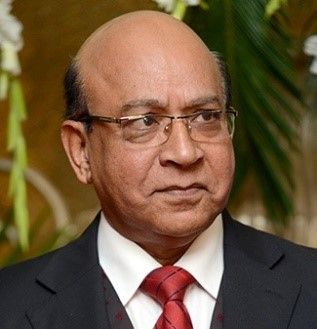 Rashad Daureeawo SC was Called to the Bar in 1970. He is currently Head of RD Chambers in Port Louis and mainly involved in civil, corporate and criminal law. He took Silk as Senior Counsel in 2010. He had served as President of Bar Council and in the Law Reform Commission. He was the High Commissioner of Mauritius to Pakistan 2021-2015. He is the current President of the MMTA.