When I joined Middle Temple, I had one clear vision: to turn the catering and hospitality offering at Middle Temple into the best and to build on the great service that had been established by my predecessors. With no time to waste, I quickly set to work.
Ultimately, it's my aim to ensure that all members, students and guests experience fantastic catering and hospitality, from a simple sandwich to a sumptuous four-course dinner. Coupled with impeccable service from a team of ambitious, dedicated and conscientious staff that recognise the high-pressure environment in which our members work.
Joining me in my quest is Kerry Pedrick, the Inn's Commercial Manager, who has more than 25 years of client-facing and sales experience. Previously, Kerry worked at the Worshipful Company of Stationers and Newspaper Makers. She brings extensive knowledge of working in the City and I am delighted to work alongside her to make your time at Middle Temple both productive and enjoyable.
I joined Middle Temple from Mosimann's, the Royal Warrant-holding caterer, where I ran UK event operations. I oversaw events at Guard's Polo Club in Windsor Great Park, St James' Palace, Clarence House and Buckingham Palace. Furthermore, I have worked on prestigious events such as the Olympic Games in Rio and Pyeong Chong, delivering high quality catering and hospitality to corporate clients and sponsors. I will be drawing on these extensive experiences in my new role at Middle Temple and, alongside Kerry and Jordan Andrews, Middle Temple's Executive Chef, will endeavour to listen to members to meet all your catering, banqueting and hospitality needs.
The Garden Room
One of the most recent and exciting projects that I have had the pleasure of working on is Middle Temple's new Garden Room. The Garden Room opened in June, providing members with a space in which you can relax, read the newspaper and enjoy breakfast and lunch. It's also a space that is adjacent to peaceful workspaces that have been designed to enable members to come into the City, enjoy breakfast and head to court before returning for lunch or dinner with colleagues, friends and family.
It is an incredibly exciting addition to Middle Temple, breathing new life into the revered and much-loved venue. For example, members can now enjoy the best produce from new and familiar producers, escalating the food and beverage experience at the Inn. Enjoy artisan coffee from Press Coffee & Co of Fleet Street, award-winning hot chocolate from Kokoa Collection, as well as masala chai lattes infused with beetroot or turmeric, for example. Such items are served alongside other freshly brewed hot beverages and fresh fruit juices that are a staple of Middle Temple's catering offer.
But that is not all. Not only is it our aim to provide our members with high-quality, beautiful, traditional and freshly prepared food in the Garden Room – think hot bacon rolls and the MT Club Sandwich – but we are also developing a programme of entertainment and events that will become a regular feature within the Middle Temple calendar. We want Middle Temple to be a 'destination': the perfect location for you to work, network and relax – an extension of your home and chambers.
The Garden Room can be hired for private parties and we are delighted to announce that the space is also available for hire on weekends. It is perfect for cocktail receptions and BBQs so, please do contact me or a member of the team and talk to us about how we can make your occasion a memorable one.
Fountain Court
During the warmer summer months, the Fountain Court Bar is perfect for networking and relaxing after a long day. The bar is open on Wednesday, Thursdays and Fridays between 17:00 and 21:00, serving a wide range of drinks, including Champagne, wine, beer and soft drinks. You can enjoy a glass of Joseph Perrier, our house Champagne or sample a wide variety of wines including our own label red and white house wines.
The Champagne bar is just one of several spaces within Middle Temple that can be used by members to meet and unwind.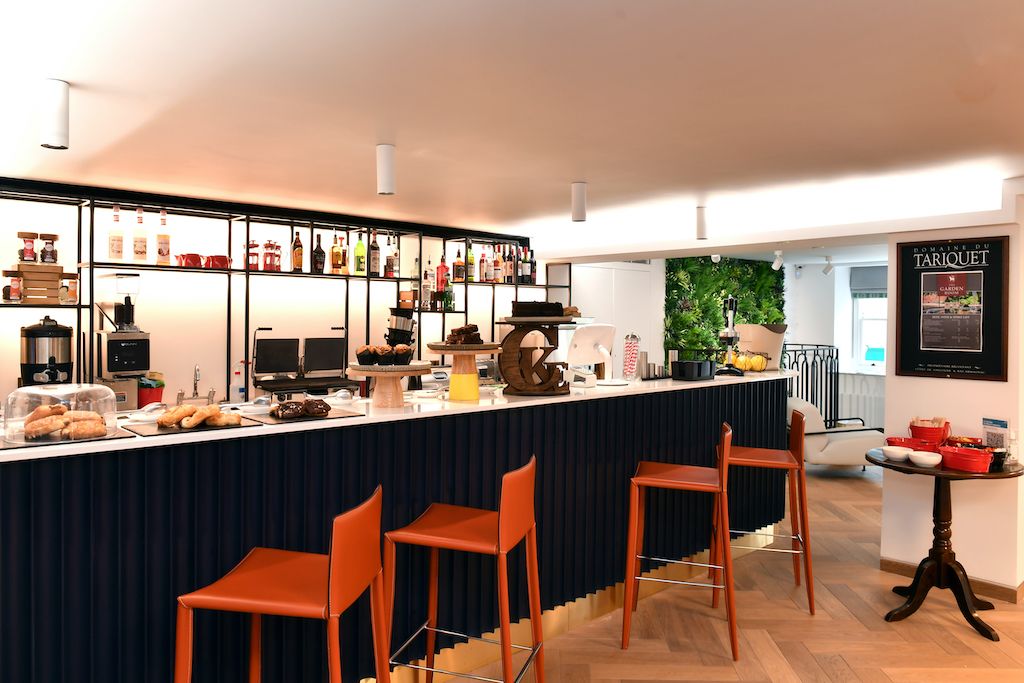 Lunch at Middle Temple Hall
Right now, our team of chefs are creating a range of delicious menus that will be available in Hall for lunch, opening on Monday 4 October 2021. Whether you are looking for a leisurely lunch or for a more formal dining experience, there are numerous catering options available, providing our members with the best flavours of the season. Whatever the occasion, our members will be served by our friendly and helpful waiting staff.
The Hall is available to hire as an event space and can be used for weddings, award ceremonies and networking events. It's a great destination for business receptions, with its dramatic backdrop delivering a real 'wow' moment.
Event catering at Middle Temple
Whatever event you are hosting, our dedicated and experienced team of staff are here to help. We have a range of event spaces available to hire and a team of chefs that can design menus to suit a broad range of tastes. It is our desire to deliver world-class catering and hospitality to our members, ensuring your experience at Middle Temple is smooth, relaxing and enjoyable.
We have a number of new developments at Middle Temple. For example, subject to the requisite planning consents being achieved, we are making alterations to Hall fire exits, which will increase event capacities at Middle Temple. This means that we can host larger Domus or non-Domus events. This will have a positive impact on revenue streams, as private events supplement the hard work that is conducted at Middle Temple on a daily basis.
Looking ahead to June 2022, we are looking to host numerous events to mark The Queen's Platinum Jubilee Celebrations. Our garden, for instance, is the perfect location for a summer garden party and there is the option to erect a marquee. If you would like to host an event within our garden, please get in touch. Once again, our hospitality and catering teams would be happy to work with you and devise a menu that would work for your guests.
We have unrivalled hospitality expertise and can deliver everything from an informal BBQ for a family fun day to a more formal four-course dinner. The options are endless. By listening to and talking with our members, we can deliver high-quality catering and dining experiences with high standards of customer service. So, please talk to the team today and discover how we can raise the bar and deliver exceptional hospitality experiences at Middle Temple.
I'm always available to talk to. Please contact me on [email protected] and on 020 7427 6389.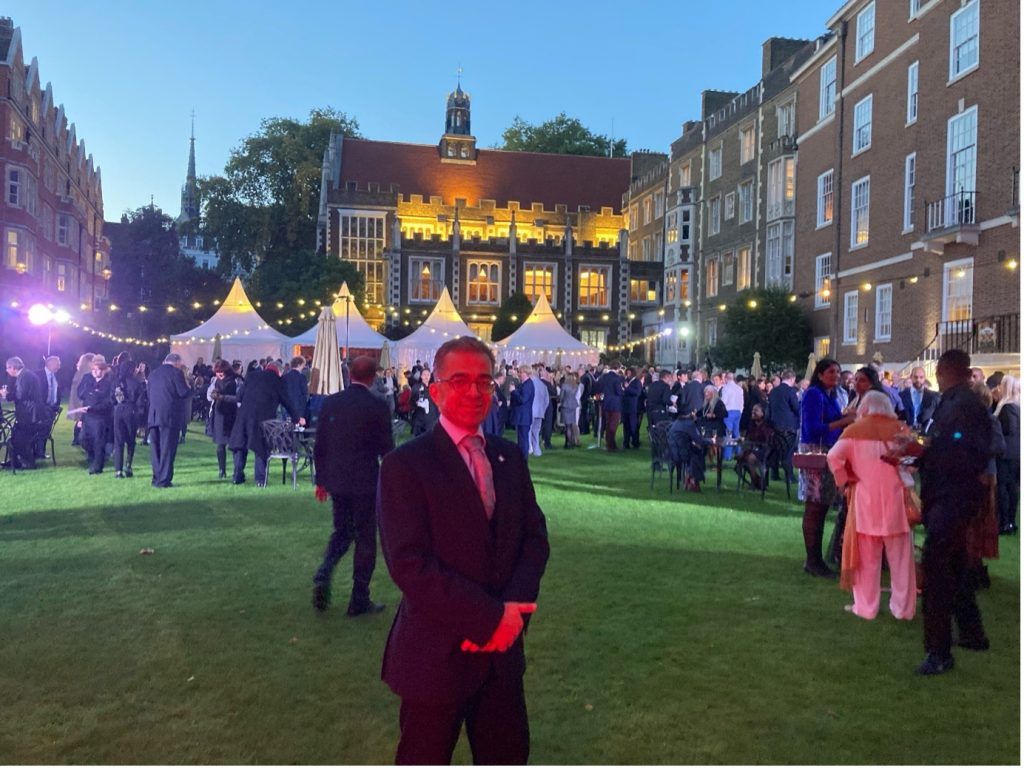 ---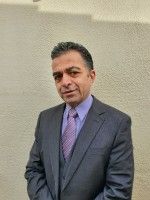 Mark Pacheco is the General Manager of Conference and Banqueting. Mark joined the Inn in February 2021, bringing more than 30 years of events, catering and hospitality experience to Middle Temple. It is Mark's aim to deliver first-class catering and hospitality services to members, and to develop a programme of entertainment and events that will elevate Middle Temple and all it has to offer.